Happy Happy English Graduation Night, on 24 May 2014
One Indian worker described HHE as a "Life-achievement program"
In mid-January, Goducate (www.goducate.org) launched the program, Happy Happy English (HHE), at one of Westlite's dormitories in Singapore. The aim of these classes is to teach the workers functional English. HHE focused on workplace English, on how to speak to supervisors; asking for directions; talking about themselves and their families and others. It helped to enable them to interact with colleagues and with Singaporean society. The lessons are given in a relaxed atmosphere, with plenty of interaction between students, teachers and facilitators.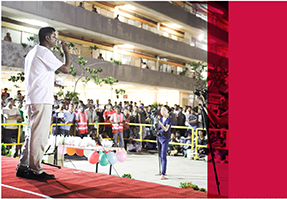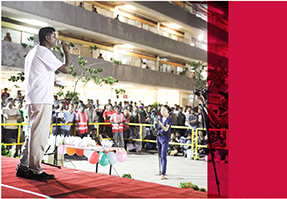 May 24th marked the end of first 12-week term for HHE at Westlite dormitory.
To commemorate this occasion, Westlite and Goducate held a graduation ceremony for the students. The graduation ceremony was preceded by a volleyball game between Westlite dormitory residents and players from Goducate's ConnecTayo program, a program for getting to know Filipino foreign workers through sport. The dormitory team thrashed the visiting team. We found out later that the dormitory had an Indian state player and a volleyball coach in their team!
The graduation ceremony was a chance for the students to showcase their talents in song, dance, and in a skit. They sang in their mother tongues as well as in English. The skit incorporated topics taught over the past 12 weeks. The students also performed a choreographed dance item. Some students spoke in video clips, and on live stage, about what they had learned and achieved through this program. One from India described HHE as a "life-achievement program" where one can learn new things and feel good about them. The proudest moment for each of the students and for the teachers was when each student was called up on stage to receive the certificate.
After all the formalities, we had a time of dinner and catching up with the students. A young worker from Bangladesh told one of our teachers that this was the most memorable moment in his life so far.
Happy Happy English Graduation Night on 24 May 2014