LABOUR DAY TRIBUTES TO OUR RESIDENTS
3 May 2016 – Westlite Toh Guan and Westlite Mandai marked Labour Day this year with events held in collaboration with various groups, to show appreciation for our residents' contribution to Singapore.
At Westlite Toh Guan, the event – "Labour Day Food Fair" – was organised by Project Chulia Street, a privately-funded initiative that serves as a platform to bring together entities and individuals for specific projects that enhance the health and well-being of migrant workers in Singapore. The food fair was held in collaboration with other partners, such as 45Rice, Kerbside Gourmet, Kuhlbarra, NPE Print Communications, the National Volunteer & Philanthropy Centre, The Silent Foundation and volunteers from the public. The food fair saw various parties come together to hand out food, ranging from tacos to crispy fish sandwiches, to around 1,000 residents. Kuhlbarra and 45rice also prepared curry fish and fortified rice for 6,000 of our residents to enjoy.
The food fair was so well-received by the residents of Westlite Toh Guan that food distribution commenced two hours earlier than intended at 5 pm, instead of 7 pm, to accommodate the high turnout of residents before the event began. Singaporean volunteers interacted with the residents over dinner and activities held throughout the evening.
Westlite Mandai was the venue for an art and story showcase – "SAMASAMA: Redefining Migrant Workers" – organised by Ms Kari Tamura and Mr Calvin Tay, in partnership with Healthserve, Westlite, Project Chulia Street, Ben & Jerry's, and volunteers. The showcase was held over three days and included an art installation by Mr Tay, who is a local artist, a guided tour of the dormitory and, for visitors on Labour Day, a dinner with the residents.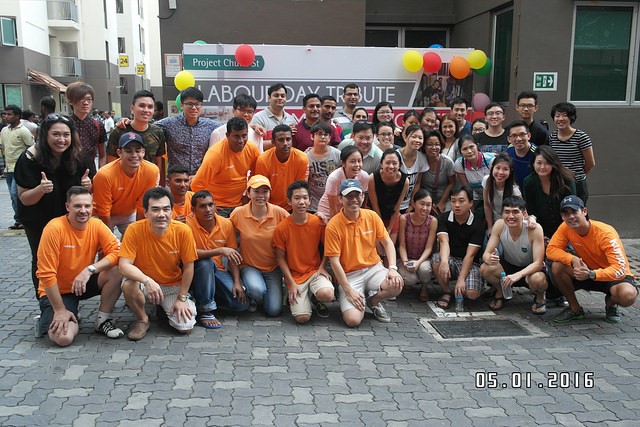 Guided tours for the public were conducted by the staff from Westlite to give the public a better insight into the living conditions of residents and the recreational amenities available. The art and story showcase aimed to redefine the image of migrant workers by telling the story of the residents through various mediums of photography, print, video and the art installation, which included narratives of residents on their experiences. The exhibition also saw one of our former residents, Mr Md Mukul Hossine, with the help of HealthServe, launch his book – "Me Migrant" – which contained poems he composed to convey his thoughts and perspectives as a migrant worker.
In addition to the exhibition, HealthServe, in partnership with Ngee Ann Polytechnic School of Health Science, carried out free medical screenings for 200 residents. The screenings included blood pressure and glucose tests, and eye check-ups. The event ended with a celebration dinner between our foreign friends and fellow Singaporeans, with Ben and Jerry's serving 2,000 scoops of ice-cream treats to the residents.
Aside from showing appreciation to our residents, these events allow for the public at-large to better interact with our residents and foster a greater sense of social cohesion. Westlite aims to continually work with social groups to organise more events to promote interaction and understanding between our residents and the local community, with the ultimate goal of building a more cohesive society.